Bay Area Support Provides a World of Difference
Block by Block (BBB) prides itself on being a leader in the industry, serving more downtown districts and public spaces than any other competitor in the field. Part of what sets us apart is our dedication to the people we hire and the services we provide for our customers. This dedication can be seen in two individuals and the positions we have created specifically for our California Bay Area customers: Zori Nevarez as Regional Recruitment Coordinator and Bob Martins as Regional Maintenance Mechanic.
Zori and Bob are both exceptional individuals in their own rights, since even before they came to where they are now at BBB. In these roles, they provide customers with the best possible service entirely unique to BBB.
Zori Nevarez, Regional Recruitment Manager – A Passion for People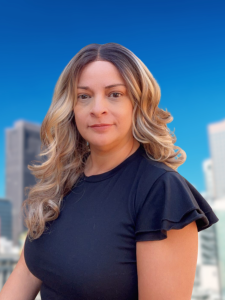 At her previous company, Zori was a regional manager for a retail financial company where she recruited and trained people for more than 20 years. Tired of the stress of finance and retail, she found her home here at BBB where she has been successfully recruiting and training Ambassadors for two years as Regional Recruitment Coordinator.
There are two parts to Zori's position: recruiting and training. As far as recruiting goes, managers from various accounts will come to her with an opening. From there, she takes over posting the position on hiring sites and conducting initial interviews via Zoom or phone calls. She forwards suitable candidates back to the managers to interview and make their final choice. Once someone has been hired, she takes over again to do full-cycle onboarding and train the individuals on BBB standards and best practices for their work out in the field.
After employees have been hired, then comes the training. Every other week, Zori hosts a two-day, new-hire training for new employees from 15 accounts in the Bay Area in one central location in Union Square. Each training typically has an average of seven employees from all over the Bay Area but can have as many as 15-20 at maximum.
Training consists of videos, open dialogue and discussions about personal experiences. Zori will discuss a wide range of topics that not only include the work specific to each type of Ambassador or job title, but also important sensitive responsibilities like how to de-escalate a situation, interact with the street population and handle individuals experiencing a mental health episode.
Zori said there are benefits to having the training with Ambassadors from multiple accounts because they "can talk about the different areas and how visitors or residents affect each area and how to handle them."
Operations Supervisor Freddie "Raven" Anderson with Union Square, San Francisco works closely with Zori as her training takes place in the same building where his account operates.
"Sending our incoming Ambassador staff upstairs to Zori for initial training is a huge advantage," Raven said. "Often, trying to conduct in-house training during daily operations can be confusing to a new hire and there are often time constraints or distractions that causes a new employee to get less attention than what they get with Zori."
Zori's position is unique to BBB in that she takes the time to ensure that when someone first starts with BBB, they are trained for more than just their basic job responsibilities. Trainees not only receive the tools to do their job successfully, but they also learn about how to help those struggling with mental health issues, show visitors hospitality and more.
"When a new hire comes back to us from Zori's training, they are up to speed on operational procedures and BBB protocols, which saves us a considerable amount of time and allows a smoother transition during the hands-on training we can provide in the field," Raven said.
Zori's attention to the new employees doesn't stop after training, however. She follows up with each person's manager to discuss employee strengths and potential weaknesses that need to be addressed in the field. She will even message the employee directly to wish them a happy first day or remind them of upcoming meetings.
When asked what she enjoys most about her job, Zori said: "I love it all; I truly love my job. So, I can't say I have one thing." She said that she is particularly proud that BBB gives second chance opportunities to individuals who may be facing obstacles preventing them from establishing steady work. She has even hired individuals who were living in their cars to help them get back on their feet.
"I love helping people be able to feed their families and see them successful in the various accounts," Zori said. "I've seen Ambassadors I've hired become Team Leads, so helping them grow with the company makes me very proud."
Bob Martins, Regional Maintenance Mechanic — "Mr. Fix It"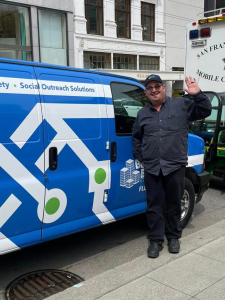 Bob grew up tinkering on cars with his father in the garage of their home in the 70s and 80s. He says cars were made differently back then. You could open the hood and work on them, take them apart, and put them back together. His dad was an IBM machinist by day but made working on cars the "fun stuff."
Bob started working with a company that operated in the San Jose Downtown Association before BBB took over the account. He would watch maintenance technicians that the account manager hired to fix equipment as they made their repairs. It wasn't long before he realized he could easily make the same repairs. After mentioning it to his boss, he became "Mr. Fix It." He started changing the oil in the equipment, making minor repairs and ultimately repairing pressure washing vehicles. Bob worked with San Jose Groundwerx for 15 years, the first five with a company that would later be bought by BBB and the remainder with BBB.
The Regional Maintenance Mechanic position Bob now holds is a new position that BBB determined would be an asset to Bay Area accounts. From his knowledge growing up tinkering and the time he spent learning about and repairing equipment in San Jose, Bob was the perfect candidate to travel from account to account making repairs in the Bay. Each evening, Bob determines where he needs to go the next day. He takes off from his home base in Lathrop around 6 – 7 a.m. to make the drive to whatever account needs his maintenance skills.
Bob also manages BBB's Bay Area Storage Facility with extra fleet equipment in case an account has a major breakdown or needs to borrow a piece of equipment for any reason. The facility houses extra All-Terrain Litter Vehicles (ATLVs), pressure washer trucks, a pickup truck and more. This equipment is loaned out, free of charge, to accounts that need it.
Bob's position and the fleet storage facility were investments BBB made to bolster our regional support and ensure a quick repair time to keep Ambassadors out and about doing what they do best.
The purpose of this new position, which Bob began in March, is to keep account equipment working, reduce the amount of down time between breakdowns and save BBB and our customers money on what otherwise would be outsourced labor repairs. There are 16 BBB accounts in the Bay Area, and Bob performs repairs for all that have mechanized equipment — which is most of them. Account managers will call or text Bob when something goes down, and he will get them on his next available schedule to drive out and make the repairs.
He is also quick to respond to repair requests. "If you call me today, nine times out of ten, I will be there tomorrow," he said.
"Bob is fantastic," said Raven. When Bob worked maintenance for Groundwerx, Raven said he or his team members would drive from San Francisco to San Jose, about a 30-minute drive, just to have Bob fix equipment. Raven has also learned a lot from Bob over the years, as Bob has taken the time to show him how to make minor repairs like replace water pumps, hoses, unloaders and other parts on their equipment.
"Having regional maintenance support saves us travel time, labor repair costs, parts cost and gets us back in service faster than waiting on a shop or outside service provider," Raven added.
Despite driving every day, Bob doesn't think he will ever get burned out. Listening to comedy podcasts, seeing the scenery and what's off the side of the road keeps him entertained through the long driving hours. He enjoys the freedom and trust he has from his boss Semu One Bear, Pacific West Regional Vice President. Working for Semu again, whom he worked with in San Jose years ago, is another highlight.
"I hope this lasts until I can retire," Bob said. "I want this program to succeed. Maybe in the future if this succeeds up here and in Southern California, maybe we can implement similar programs across the country and find good people to do what I do."
"And, maybe then I can run that from a computer and get off the road," he added, laughing.